There are 3 simple steps to successful integration of SendForensics with ActiveCampaign:
---
Step 1. Add SendForensics as a contact in ActiveCampaign & create a testing list
The SendForensics system needs to become another recipient of your emails to be able to analyze your deliverability properly:
To do this, first locate your unique SendForensics analysis address within your SendForensics account (Account > Profile):
Now make a note of this unique analysis address as you are going to add it as a new contact within your ActiveCampaign account.
Now login to your ActiveCampaign account. We would suggest creating a new list just for this contact (Lists > Add a list), calling it something recognizable so it can be easily included in all live sends. List URL and Description can be anything, since it won't be a real person receiving emails from this list.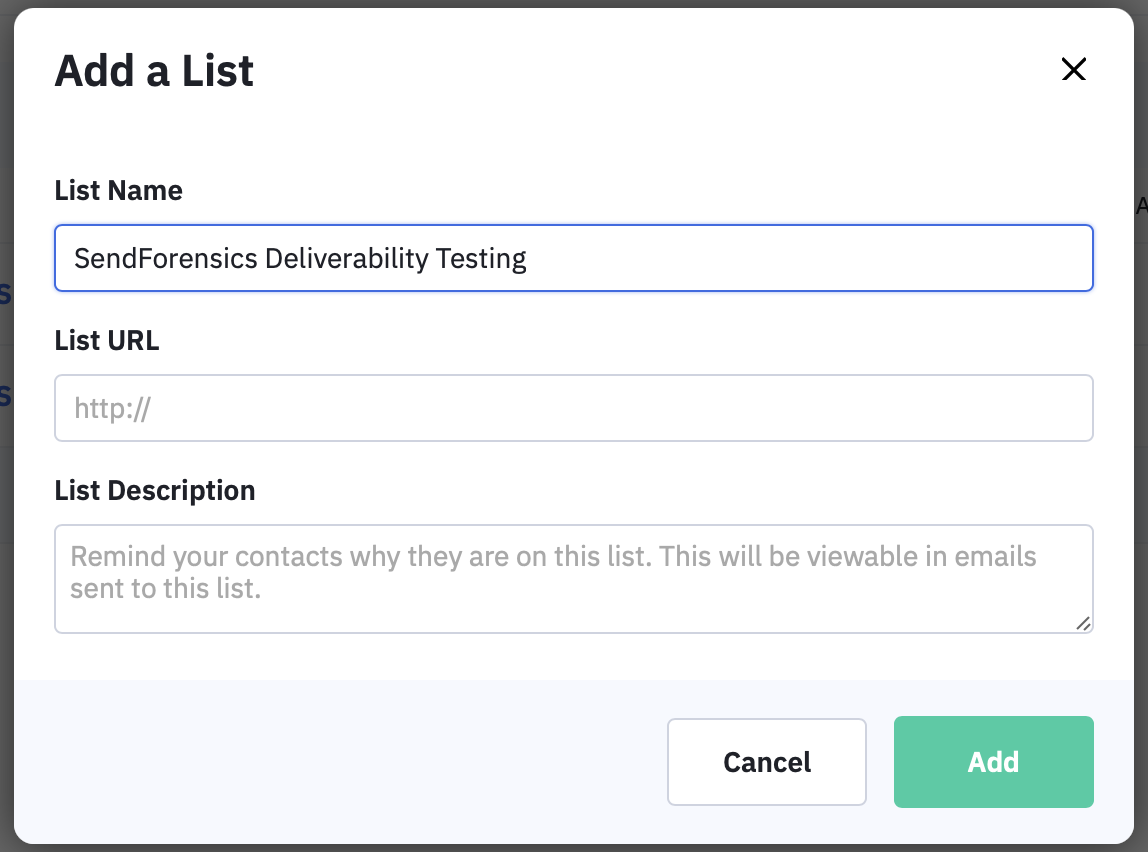 Now add your unique analysis address as a subscriber to this list (Add a contact).
Now whenever you send a marketing email within your ActiveCampaign account, always include this list and the SendForensics system will receive a live copy for analysis:
---
Step 2. Activate the Plugin within SendForensics
This will enable the automated analysis of your ActiveCampaign engagement data* to complete the deliverability picture:
*Anonymous, aggregated email marketing metrics containing no personally identifiable information (PII).
More information »
To enable the ActiveCampaign plugin, you will need the API URL and API Key from your ActiveCampaign account.
1. Log into your ActiveCampaign account, then navigate to Settings > Developer:
2. Copy your API URL and API Key.
3. Login to your SendForensics account, then visit the Domains page (Account > Domains).
4. Select "ActiveCampaign" from the ESP Plugin dropdown menu, then paste your API URL and API Key and click "Activate Plugin".
---
Step 3. Start using the new workflow!
Each time you create a new campaign and are ready to send live ('Campaign Summary' page), first send a test to your unique SendForensics analysis address for pre-emptive deliverability analysis:
After receiving it, the system will process your email and display the full deliverability analysis results within your (SendForensics) dashboard:
Cycle through the tabs following the advice and recommendations to optimize the deliverability of your email as much as possible, re-testing as necessary. When you have reached a comfortable deliverability score (vs amount of work needed to improve it further), the campaign can be sent live.
Live sends will also be processed (as a result of Step 1 above), and will additionally contain an analysis of your engagement data (live results) to produce advice and recommendations on any deliverability issues hidden within. These can be acted on and corrected before the next live send by following the instructions and guides within the SendForensics dashboard.